Friends of Fort Fremont Events
---
Monday, June 26, 2017 - Friends of Fort Fremont Annual Meeting
2:00 PM, Saint Helena Branch Library
You are cordially invited to attend the Annual Meeting in the Library Conference Room.
Architect Michael Griffith will present plans for the Beaufort County Interpretive Center at Fort Fremont Historical Park.
Enjoy a preview of our new educational video on the history of Fort Fremont (funded by the Beaufort County Accommodations Tax Grant).
Light refreshments will be served.
June 28-July 4, 2017 - SC Historical Society's Liberty Week
The Beaufort County Historical Society Board will present a Liberty Week Festival June 30th and July 1, 2017, from 10:30 AM - 3:30 PM, to support the SC Historical Society's Liberty Week in hopes of making this an annual Countywide event.
All participants listed below will open their doors or spaces free. They will provide an introduction in commemoration of their facility's SC historical significance. 
Liberty Week kicks off at the Beaufort District Collection, with the Beaufort County Historical Society hosting Doug Bostick of the SC Battleground Trust, on June 28th at the Beaufort County Library, 311 Scotts St., Beaufort, SC.
Friday partners 10:30-3:30
John Mark Verdier House (HBF) – Beaufort, SC
Coastal Discovery Museum – Hilton Head Island, SC
Heritage Library, including Zion Chapel and Fort Mitchel – Beaufort, SC
Union Church – Port Royal, SC
Heyward House* – Bluffton, SC
Historic Daufuskie Island Foundation Museum* – Daufuskie Island, SC
Morris Center* – Ridgeland, SC
Parris Island Museum* – Port Royal, SC
Port Royal Foundation Maritime Center* – Lemon Island, SC
Saturday partners 10:30-3:30
National Society Sons of the American Revolution Governor Paul Hamilton Chapter - Beaufort, SC
Beaufort History Museum - Beaufort, SC
Fort Fremont - Lands End - Saint Helena Island, SC
Santa Elena History Center - Beaufort, SC
*sites open Friday and Saturday
WATCH THIS SPACE FOR…
Interpretive Center Ground Breaking
Interpretive Center Grand Opening
---
TOUR FORT FREMONT
Docent tours every 4th Saturday
Tour begins 10:30 AM at the St. Helena Branch Library
Fort Fremont Diorama: Explore Fort Fremont through the 100 square foot diorama created by a local master craftsman from actual drawings by the Army's master engineers.
Fort Fremont Tour:
1126 State Road S-7-45
St. Helena Island, SC 29920
Docent-led (11:00 AM – Noon) or self-guided tours (sunrise – sunset) of historic Fort Fremont, the Park and batteries.
---
Saint Helena Island Branch of the Beaufort County Library Hosts Fort Fremont Diorama
Now including model of the 10" Disappearing Gun
Until the opening of the planned Interpretive Center, the home for our diorama of the fort will be at the Library. Friends of Fort Fremont is very grateful for our relationship with the Library and look forward to introducing the public to our miniature fort.
The construction of the Interpretive Center is delayed by archaeological research expected to be in progress during October-February. The State requires a search for any artifacts at the site before construction begins. (See more)
---
---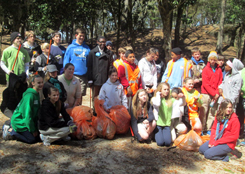 images
images
images
Riverview School at Fort Fremont Historical Park
Pete Richards and Joe Lee, President, hosted a group of thity-eight 8th graders from Riverview Charter School for their community service day. They toured the fort, did property cleanup and had lunch. Great group of students, teachers and parents....thanks to everyone. Click the photo for slideshow.

---
Winter Planting Summary—February 13, 2010
We had a very successful winter planting at the Fort Fremont park site. We had twenty four volunteers who came out on a cold February day to install buffer plants they included Master Naturalists, Master Gardeners and Friends of Fort Fremont. We collected $250.00 to purchase plants. In addition, individuals brought individual plants.
The volunteers installed approximately 40 plants including wax myrtles, crossvine, inkberry holly, saw palmettos, beautyberry, oakleaf hydrangea, yaupon holly, Carolina laurel-cherry, and a toothache tree. All of the newly installed plants are clearly marked with bright orange flags and several vegetative islands were designated with string and orange as recommended by Mark Roseneau.
We have 11 more plants on back order which will be used to complete buffers on the north and east fence lines. Wendy Wilson will coordinate a future planting to complete the buffer planting. In addition the volunteers trimmed back some brush by the front entrance and began the process of digging out a large growth of smilax located in the south fence line. There were two brush piles left at the entrance and another in the southwest corner by the fence for County pick up.
We accomplished a great deal thanks to the hard work of all of our volunteers and we would like also to acknowledge the great effort of our partners in the County Government Special thanks to PALS director Christina Roberson for her strong support and Mark Roseneau County Facilities Director who arranged for the Portable John and the placement of an important bollard at the front entrance, and to Chief Kline from the Ladys Island/Saint Helena fire department who helped us with the critical watering after the initial planting.
---
A Call to Arms-with a Shovel!! Native Plant Restoration at Fort Fremont Historic Park
View the Flyer
Native Plant Society members are invited to participate in a native plant restoration project at Fort Fremont Historic Park sponsored by the LowCountry Master Naturalist Association (LMNA) on February 13 from 10 a.m. to 2 p.m.
Beaufort County acquired Fort Fremont in 2004 through Beaufort County's Rural and Critical Lands Program and the Trust for Public Lands. This important land acquisition contains one of the few remaining intact fortifications from the Spanish American War era and preserves open space in an area that is experiencing environmental strains of rapid development. Located on St. Helena Island on the banks of the Beaufort River and Port Royal Sound, this 15-acre site is a prime example of a maritime forest unique to the coastal Sea Islands. The historic significance and natural setting of this property make it ideal for a community park and educational learning site.
LCMA has been working with the County to provide volunteer support to assist in planning and maintaining the site as a passive park. A key element of the master plan is to restore native plants to promote biodiversity, raise community awareness of plant conservation, and preserve the natural and historic legacy of the site. We worked with the Southcoast Chapter of the Native Plant Society and Daniel Payne of Naturescapes to select native and naturalized plants based on soil and light conditions and drought tolerance.
On February 13, LCMA and other community organizations will begin the restoration by installing plants, including wax myrtle, beautyberry, saw palmetto, yellow Jessamine, sparkleberry, inkberry holly, and yucca. If you have any plants that you would like to donate or if you would like to be involved contact Wendy Wilson via e-mail or by phone. Come be a part of history!!