FORT FREMONT-HOMELAND SECURITY CIRCA 1898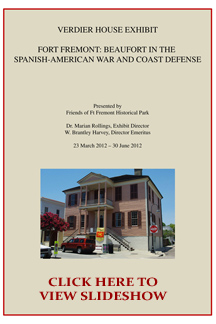 images
images
images
images
images
images
images
images
images
images
images
images
images
images
images
images
images
images
images
images
images
images
images
images
images
images
images
images
images
images
images
images
images
images
images
images
images
images
images
images
images
images
images
images
Verdier House Exhibit spotlight on Beaufort's role during the Spanish-American War
Click the image at right to view the exhibit.
Use the small double arrows
at lower right of the overlay window
to move through the slides.
The Friends of Fort Fremont presented the most comprehensive collection of Spanish-American War era artifacts ever displayed in South Carolina with many period pieces on-loan from museums and private collections. Fort Fremont was built in 1898 as part of the coastal defense system during the Spanish-American War. The site was purchased in 2004 by Beaufort County through the Rural and Critical Lands Preservation Program and is listed on the National Register of Historic Places.
Spring 2014 update: We may have found a permanent venue for the display of the posters and photographs we put together for the exhibit. Watch this space.
When was it first seen: March 23 through June 30, 2012
Where: John Mark Verdier House, 801 Bay Street, Beaufort, SC.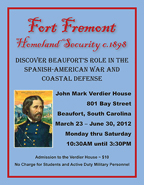 The exhibit is sponsored by the Friends of Fort Fremont Historic Site, LLC and The Humanities CouncilSC, a state program of the National Endowment for the Humanities, with contributions from many others including Beaufort County, Historic Beaufort Foundation, National Park Service at Ft Sumter National Monument, Ft Mott Historical Site, Tybee Island Historical Society, the Coast Defense Study Group, and numerous individuals.
•