Friends of Fort Fremont Events: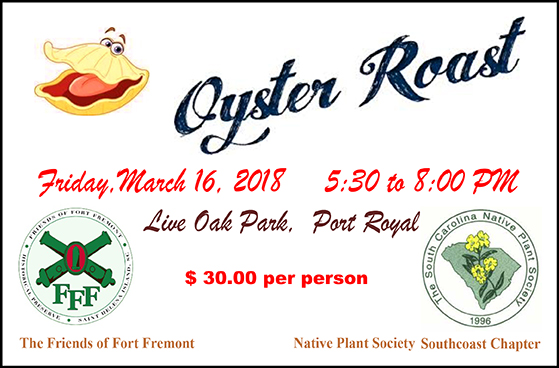 FFF Annual Oyster Roast 2017
March 16, 2018

5:30–8:00 PM
Purchase via PayPal™ Include your email address for receipt information
All Tickets $30
Sorry. Tickets must be purchased by March 13
Oysters, chili, appetizers and dessert
Live music by the Sweet Ferns
Silent Auction Items (see below!)
Bring your own adult beverage and chairs
Sponsored by and to benefit the Friends of Fort Fremont & the Native Plant Society Southcoast Chapter
For more information
Location: The Oaks Park in Port Royal
at London & 14th Streets
Food by Sea Eagle Catering
Send check payable to Friends of Fort Fremont*
P.O. Box 982
St. Helena Island, SC 29920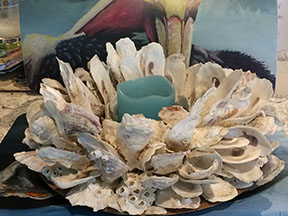 Silent Auction Items
Red Maple Carved Bowl by M. Murphy (Click image above for history of this item.)
Oyster Shell Centerpiece
Blenko Glass Fish & Mark Bittman's Fish Cookbook
Etched Glasses from Rossignol's
*If you would rather pay by check, make your check payable to Friends of Fort Fremont and mail to P.O. Box 982, St. Helena Island, SC 29920. Please include your e-mail address for receipt verification. Checks by mail must be received by March 15.

---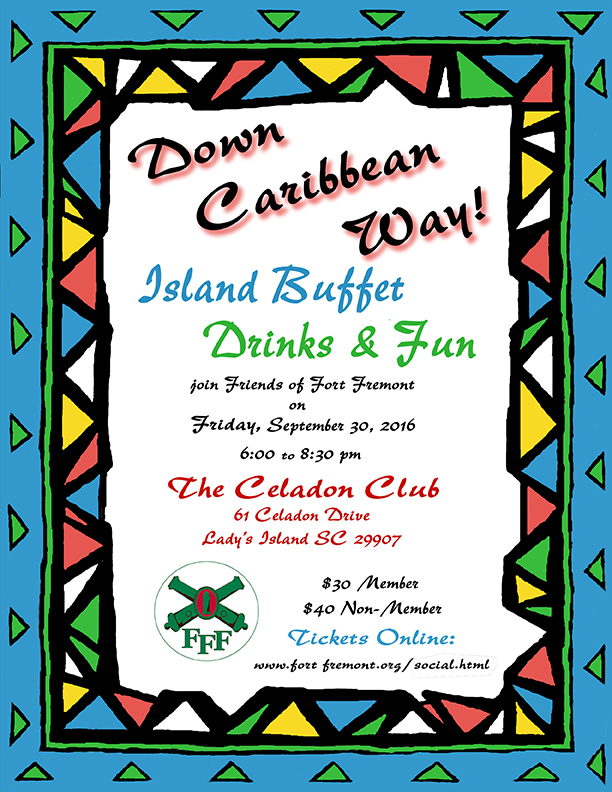 Friends of Fort Fremont Fall 2016 Fundraiser
"Down Caribbean Way"
The Friends of Fort Fremont have had an awesome year so far. We held our annual oyster roast in Port Royal last March. Despite delays in construction of the planned Interpretive Center at Fort Fremont (due to a State-required archaeology dig), we developed an acclaimed docent tour of the Diorama and other historic models located at the Saint Helena Branch of the Beaufort County Library followed by an inspection of the ruins at the County park site on Land's End. The tour is available to the public the 4th Saturday each month and to other interested groups by request as scheduled. Don't miss it!
In collaboration with the Beaufort Regional Chamber of Commerce, local historical groups and events, First Shore, and the Lowcountry Resort Islands and Tourism Commission, the Friends have raised public awareness of this Spanish American War relic, which like the Cold War Nike missile program and later the ICBM system, contributed to the United States' peace-keeping efforts and international safety without firing a single shot.
The Friends continue to help the County keep the park clean of windfall, trash and graffiti on an ongoing basis, as well as sponsor and facilitate local school visits, preservation activity and public safety improvements with the assistance of community groups and individuals. New this season, informative signs and brochures have been placed at the Fort describing the batteries that remain and the strategic significance of the entire military emplacement at the mouth of the Beaufort River.
These activities helped increase the ranking of Fort Fremont at TripAdvisor from #9 last year to #4 of eleven things to do on Saint Helena Island today and brought increased traffic to their website at www.fortfremont.org and their FaceBook page. Like us!
To celebrate our accomplishments and raise a few more dollars to keep up the good works, a Caribbean-themed soirée at The Celedon Club, 61 Sams Point Road on Lady's Island, was held from 6:00 to 8:30 PM on September 30, 2016. Tickets were $30 for members & guests and $40 for non-members. The menu (by "We Island" catering) included jerk chicken, rice dishes, and two varieties of cole slaw. Wine, beer, rum punch and non-alcohol drinks were served. Island musical entertainment by DJ Kwarme Shah of All Mobile Productions, Brooklyn, NY. Last but not least, a raffle of a gift basket was won by our favorite Master Miniaturist, Dennis Cannady.
Please watch for our next social and informational event. Join us and have fun as we promote, preserve, and protect the historic park and ruins on Saint Helena Island.

---
ANNUAL OYSTER ROAST Fundraisers
OYSTER ROAST 2016
The event was a smashing success Friday March 18 at Live Oak Park in Port Royal. Sea Eagle Oysters & Chili, appetizers and dessert provided by the Friends, Live Music by The Sweet Ferns and a sell-out crowd came together to make the evening and our Silent Auction a great fund-raiser and lots of fun.
images images images images images images images images images images images images
Friends President Cecile Dorr presented flowers to the wives (women behind the scenes!) of Dennis Cannady who has created another masterpiece in a model of the USS Olympia in the drydock once operating at Port Royal Naval Station, Parris Island; and of Pete Richards to whom the model is dedicated for his championship of the Olympia.

Click photo to view slideshow.
Sponsored again by the Friends of Fort Fremont and The SC Native Plant Society-Southcoast Chapter.

---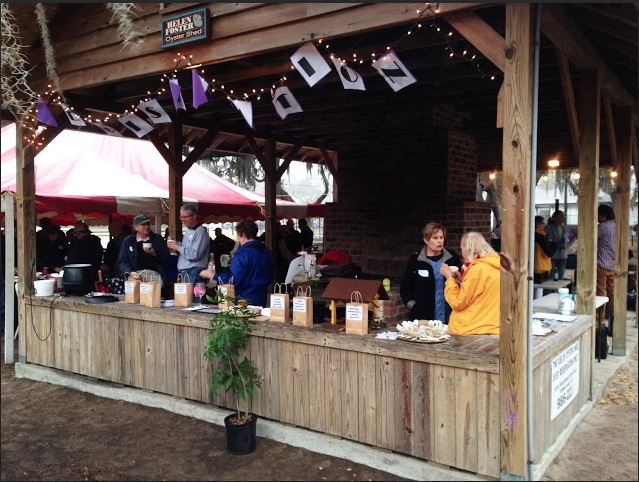 images
images
images
images
images
images
images
images
2015 Oyster Roast - Friends, Food, & Fabulous Music!
March 13 at Live Oak Park, Port Royal. Despite the light rain, a fine time was had by all. Thanks to Sea Eagle Market for another fine oyster roast, and to the Sweet Ferns for the great music.
---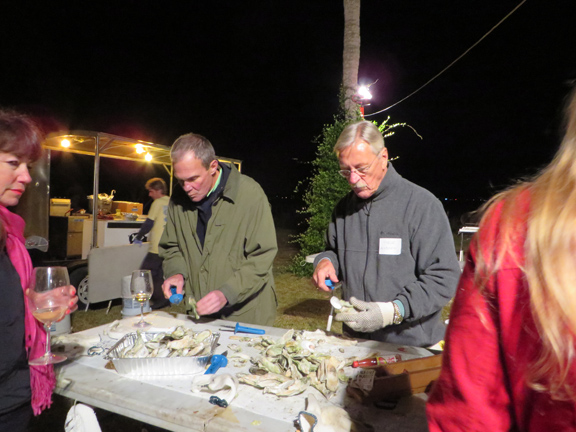 images
images
images
images
images
images
images
images
images
images
images
images
images
images
images
images
images
images
Another Successful Fund Raising Event – 3rd Annual Oyster Roast
The Friends of Fort Fremont and The Southcoast Chapter of the Native Plant Society held our 3rd Annual Oyster Roast, November 8, 2013, at Marshlands—501 Pinkney Street, Beaufort, SC. Watch for another event in the Fall of 2014. Click the photo for slideshow.
---
Wine Social at Saltus - May 18th 2015
Spring Wine Social & Appetizers
The event at Saltus Restaurant was a pleasant success. In a last minute surprise, a friend of the park donated the wine.
All proceeds of the social will support the Grand Opening of the Fort Fremont Interpretive Center.
---
Friends of Fort Fremont Annual Meeting - June 9th 2015
Saint Helena Island Branch of the Beaufort County Library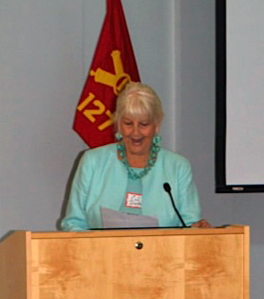 The agenda included introductions, 2014-15 progress report, committee reports, Dennis Cannady sharing on the Diorama, and guest speaker, Robb Wells of the Tourism Division of the Beaufort Regional Chamber of Commerce.
As a slideshow highlighting the year played in the background and we sat around the miniature buildings completed to date, President Cecile Dorr led into a celebration of the retirement of Ian Hill, Beaufort County Historical Preservationist. Founding President Pete Richards presented Ian with an honorary plaque which will be affixed to a metal and wood bench to be placed on the porch of the coming Interpretive Center. Ian has tirelessly led the Friends through the processes and procedures to preserve the Fort Fremont batteries and develop the park and plan for the Interpretive building. Then, in a dynamic twist, Dr. Marion Rollings gave Pete a similar honor, his own plaque for a matching bench at the Center.
Download Cecile's Progress Report for the year.

Download the 2015 Beaufort County Accommodations Tax Public Relations & Marketing Plan for Fort Fremont.
---
Fort Fremont Comes to Life
Thank you for a wonderful evening November 14, 2014, at the historic UNION CHURCH on 11th Street in Port Royal, SC. A fine time was had by all who attended.
Master modeler, Dennis Cannady, a noted creator of historical 3-D dioramas presented plans for a model of the Fort to be installed at the Fort Fremont Preserve interpretive visitors center. He inspired us all with his vision on screen as well as showing examples of what he has finished.
ADOPT A BUILDING: All forty-eight structures in the diorama are now sponsored and a plaque will list their names. Click HERE to view the buildings and structures.